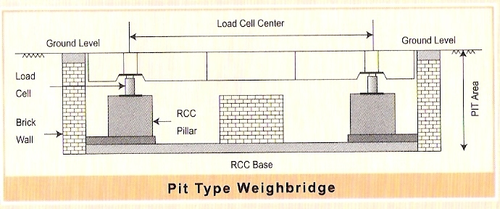 Pit Type Weigh Bridge
Product Description
Steel Pit type Weighbridges:
Suitable for use in areas of limited space, the PIT weighbridge is constructed with two main longitudinal steel I-Beams that are braced very rigidly with more smaller I-Beams transversely bearing I beam sections in adequate nos. and finally topped up with MS plates to complete the structure suitable for permanent type installations. Ground level deck provides safe access for trucks and personnel.
Design Structure:
Complete all Steel structure, fabricated to form a box type squarish grid network in semi bolted construction covered with M.S. Plates duly ribbed, a rugged cubical web unique modular design. The modules consists of Steel deep section main "I" Beams, which are placed longitudinally in the direction of the traffic, which take the real weight. The load cells are mounted under these main beams. Cross 'I' beam modules are bolted / welded crosswise, carefully fabricated in rigid box type grid work to prevent deflection and distortion, even on overloads. Retrofit cubical web design is symmetrical axle load bearing, where the deck plate acts as a surface skin rather than part of the load bearing structure underneath. The sophisticated design is unmatched performance that others can only hope to emulate.